Utah Community Health Workers Association (UCHWA)
Utah Community Health Workers Facebook page
Utah CHW Section Facebook page
National Community Health Worker Association
--------------------------------------------------------------
Bridging the Gap: Training of Medical Interpreters
For over 20 years, the Utah Department of Health and Human Services has trained bilingual and bicultural individuals on how to become effective medical interpreters. We use the 64-hour Bridging the Gap Medical Interpreter Training, a nationally recognized training course from the Cross Cultural Health Care Program.
For more detailed information about the program please read this flyer.
Trainig Hours and Location:
This 64-hour professional training will be taught in-person in Salt Lake City in eight daily sessions beginning Thursday, June 8 through Tuesday, June 27, 2023.
Individuals will receive the exact location upon acceptance.
Please see the schedule below.
2023 Training Dates:
You must commit to attending all dates listed below in person. There is not a virtual option for this training.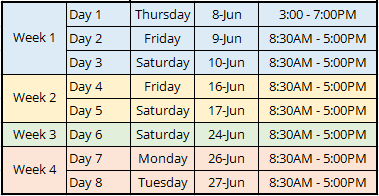 How to Apply:
Applications will be accepted from May 1, 2023 through May 19, 2023.
BTG online forms will open through the following links beginning at 8am on May 1st. These links will be inactivated at 5pm on May 19th. BOTH forms must be received, or your application is incomplete.
Late or incomplete applications will not be considered.
Please note that ALL applicants are required to have a sponsoring organization.
Email notification of acceptance will be sent out by May 30, 2023.
If you have any questions, please contact Rachel Black at reblack@utah.gov